INSPIRE cares for its community and always tries to find the best ways to address people's academic and research needs.
"Jobs" is a very important collection because it provides a solution both for Institutions who are searching for new staff and for people who are searching for a job.
How to post Job openings on INSPIRE
If you have openings for positions in High Energy Physics and related fields, you can post your vacancies on INSPIRE. This is a quick and easy procedure. For students, postdoc, junior, senior, temporary and staff positions in the general field of physics, INSPIRE is a great place to search for candidates.
If you want to post a job, go to INSPIRE Jobs and "Add a posting" (Fig.1).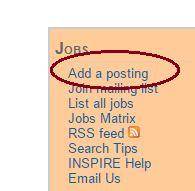 Figure 1: Add a job posting on INSPIRE
The next step is to fill out a form (Fig.2) that will provide us with all the necessary information about the job you want to post on INSPIRE. This form will help you specify your exact needs for an employee and inform people of all the required qualifications. Not all fields are mandatory; however, the more information you provide, the easier it will be for people to find the posting and for you to attract more applications.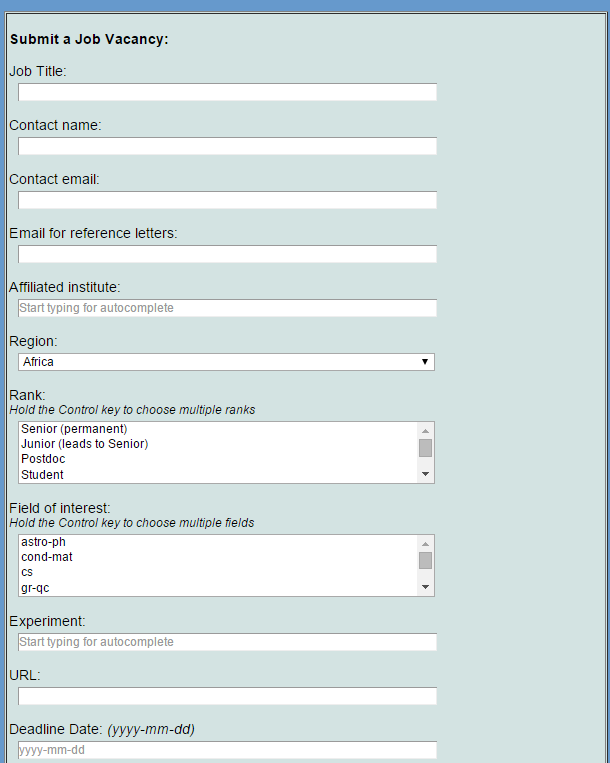 Figure 2: Form for Job Vacancies
Finally, after submitting your job, a confirmation message will be sent for your submission. You cannot spot the job you submitted immediately, as it will be visible only after being approved by our staff. When this procedure is completed you will receive an e-mail, so make sure to provide a valid email address.
How to search for a Job in INSPIRE
If you are interested in searching for a job or studentship in physics, we have implemented a search algorithm that will help you find the right job for you. You can refine your search by level of the job, (junior, senior, phd, etc.), region (Europe, Asia, etc.) and field (astro-ph, cond-mat, physics, etc.) as you can see in Fig.3.
With the Job Matrix (Fig.5), you can see how many positions exist at the moment that match your specifications and start applying. You can stay updated for new vacancies by subscribing to the RSS feed or by signing up to our mailing lists, which you can find at the bottom of the result pages or at the orange box (Fig:4).

Figure 4: Subscribe to RSS feed
If you found this blog post interesting, stay tuned with our blog and twitter to read our next blog post about the importance of the "Jobs" collection to INSPIRE!