As you might have read in our previous blog post, the new INSPIRE Labs website is the place where we will deploy and let you test new features.
Let us show you one of our new features: check out the Suggestion Forms on Labs!
Do you know about any publication (articles, proceedings, thesis) that is not on INSPIRE but could be an interesting addition? You can help us by letting us know about it via our new suggestion form. We will be happy to review it and include the content as soon as possible if it falls within our collection policy.


Fig 1: Submit publications automatically
To make it simple, we included an automatic import tool (Fig. 1). If you enter an arXiv number and/or a DOI to the form, INSPIRE Labs will automatically pre-fill as much publication information as possible.
You can also fill out or complete it manually (Fig. 2). Only a few fields are mandatory, but the more information you provide us, the more useful it would be for the readers. It is particularly important that the Author fields contain all the co-authors who wrote the publication, with each name in a separate input field, one on each line.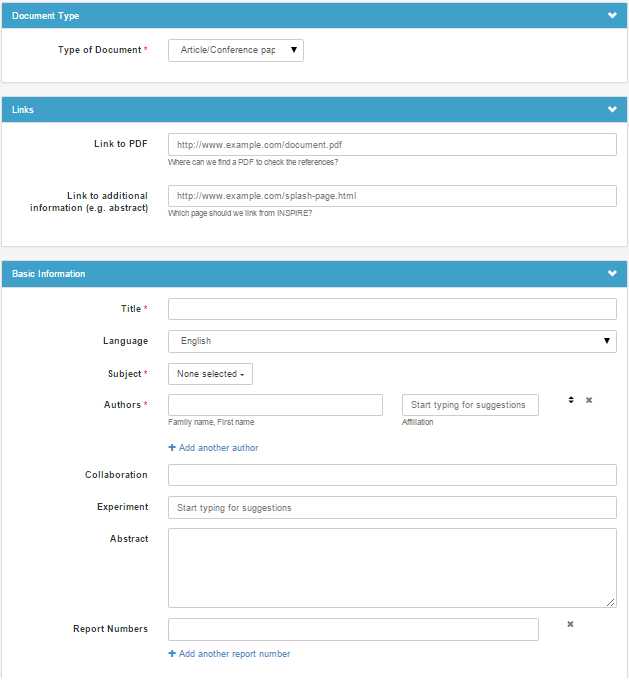 Fig 2: Submit publications manually
All the suggestions received will be reviewed by our team manually, to verify the content and complete the information following INSPIRE standards. This procedure can take a few days. Once the submission is approved, you will receive a confirmation e-mail and it will appear automatically in INSPIRE as a temporary record that will probably get further curation afterwards. Moreover, please do not worry if some processes like reference extraction and indexing may take some time.
You can find more information about how to use our suggestion form in our Help page.
We hope that you will find this new feature useful. As always, we are waiting for your feedback. You can send us an e-mail or try out the new Send Feedback widget on the right side of every INSPIRE Labs page. Let us know what you think about our new forms!