In 2010 we moved the Jobs collection from SPIRES to INSPIRE; 5 years later, this collection is one of the most visited and interactive ones on INSPIRE. Here are some statistics to illustrate how important the "jobs collection" seems to be to you.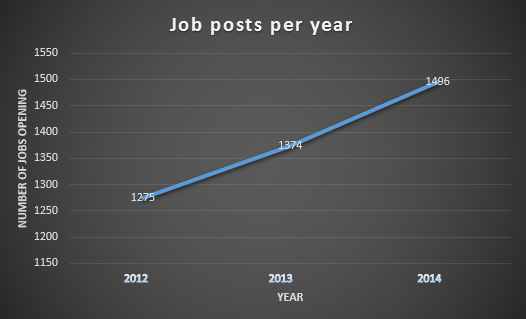 Figure 1: Job posts through the last years
As you can see in Figure 1, the number of jobs that were posted in INSPIRE has increased a lot during the last 3 years. This is happening thanks to our colleagues' effort to scan all of the HR sites of the world's labs and universities to include related job postings. To make it easier for you to find the best job suited for you, we offer you search features such as the job matrix [link to most recent blog post].

Figure 2: Jobs offers based on the employee position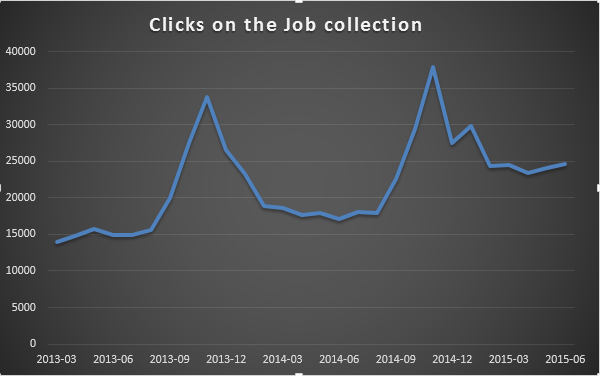 Figure 3: Clicks on the Job Collection
In Figure 3, we notice that the use of the Job collection continues to increase. It is also interesting to note that there is a seasonal growth of the traffic every fall. This only means for us that the service is useful and popular to our community. Our goal is to maintain the high traffic. So, we will continue to strive more sources and to extend the coverage of this collection so that it will totally cover the needs of the global physics community.
After analyzing these data, another interesting point is the field and the position levels that are most offered through INSPIRE. In Figure 3 and 4 you can see the most offered positions based on the field of physics that they belong to and the position status of the employees. As you can see although that INSPIRE is mostly useful for the HEP community, we offer positions in many other fields of physics as astro-ph. You can search for a job with specific criteria by using the Job Matrix.

Figure 4: Positions offered through INSPIRE in different fields of physics

Figure 5: Positions offered through INSPIRE in different employee levels
Finally, it is very interesting to see the breathing cycle of academia. Even if there were some slight changes through the years, we can notice that almost every year during September, October and November,the number of Job posts increases. Keep this in mind when you consider starting your job hunt.

Figure 6: Job posting per month through the last years
We hope that we've cleared up some things concerning the Jobs section. We wish the best of luck for all of you who are currently seeking a job. For further information do not hesitate to contact us at jobs@inspirehep.net.